Bus Companies
In Türkiye, long-distance bus routes are much more important than in other countries.
There are bus companies in Türkiye, some of which only serve individual long-distance bus routes, while other providers serve almost all major cities in the country. It is almost impossible for the traveler to compare all the routes and their prices.
There are online internet websites for that purpose.
How can you get to Bodrum ?
Bodrum, one of the most famous tourist places in Türkiye, can be reached via Milas on the D 330 motorway.
A second choice is with the airlines that fly to Milas Bodrum Airport.
Distance from Bodrum bus station to other cities bus stations
Muğla : Milas-Yatağan is 105 km,
İzmir : Milas-Söke is 230 km,
İstanbul (Esenler Bus Station) : Milas-Söke-İzmir, then highway 690 km,
Bursa : Milas-Söke-İzmir, then highway is 555 km,
Ankara : Milas-Yatağan-Muğla-Tavas-Denizli-Afyon is 700 km,
Antalya : Milas-Yatağan-Mugla-Tavas-Korkuteli 410 km, but it's 520 km from Muğla-Fethiye-Kaş-Kemer coastline,
Çanakkale : Milas-Söke-İzmir-Aliağa-Ayvalık-Edremit is 570 km,
Aydın : Milas-Yatağan-Çine is 140 km but from Milas-Söke is 160 km,
Denizli : Milas-Yatağan-Muğla-Tavas 250 km,
Konya : Milas-Yatağan-Muğla-Tavas-Denizli-Dinar-Akşehir 620 km away.

The location of Bodrum on the map of Türkiye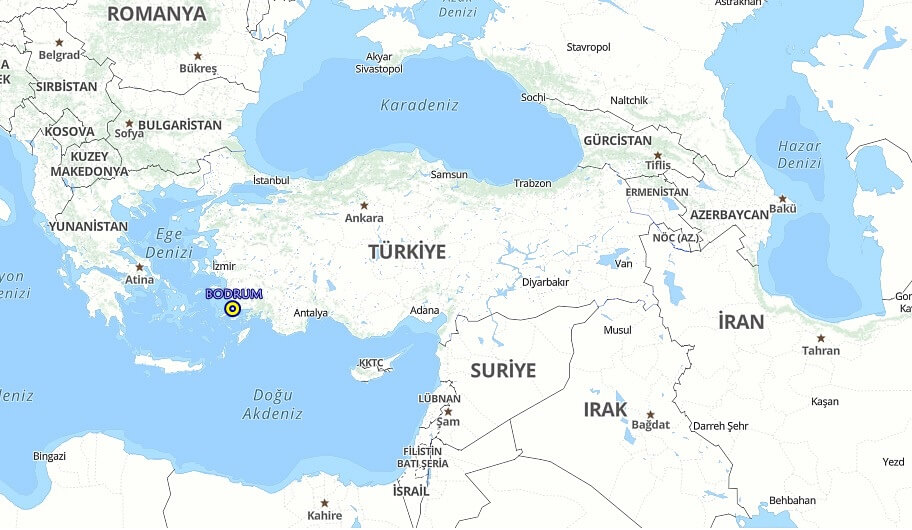 From Bodrum bus station it is possible to find bus connections and bus tickets for almost all of Türkiye.
But we don't sell tickets here!
To see where and when the buses leave or if you want to buy a ticket visit please obilet.com
There are "20 stops" for long-distance buses.
The bus companies do not have shuttles that take guests to Bodrum or from Bodrum to the bus station.
The public transport from Muttaş goes to the old bus station in the center or to the desired destination. Also the other way around.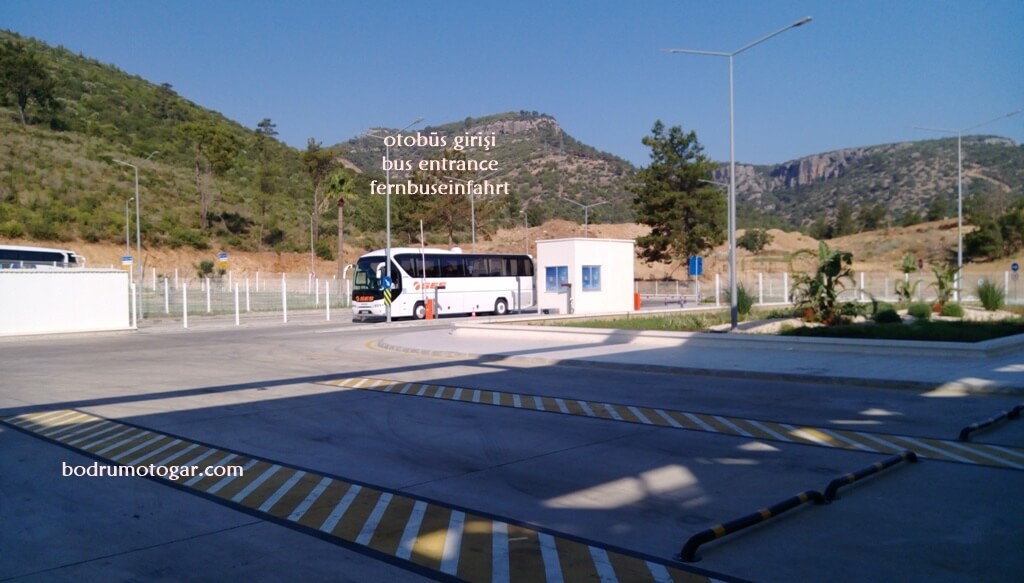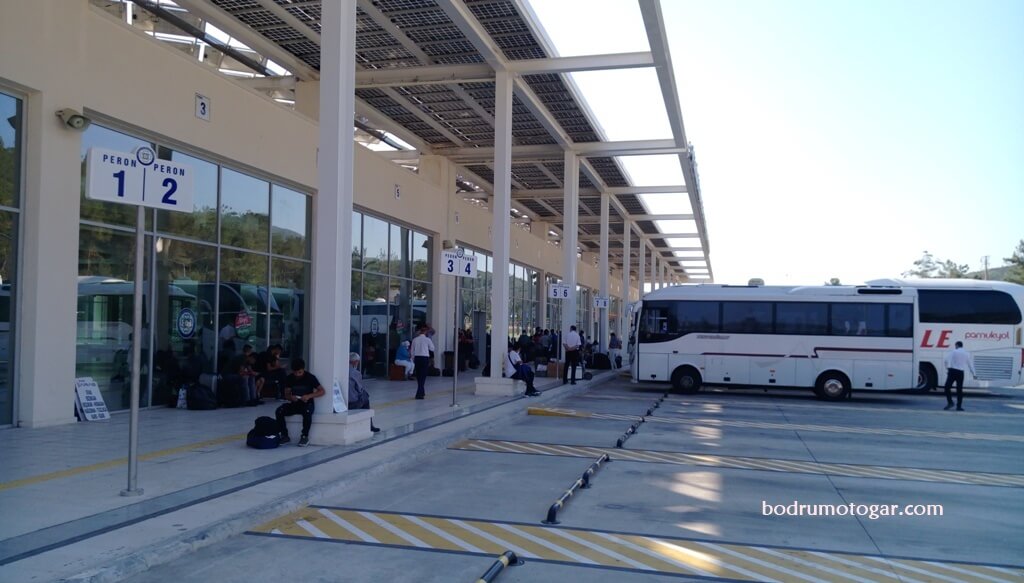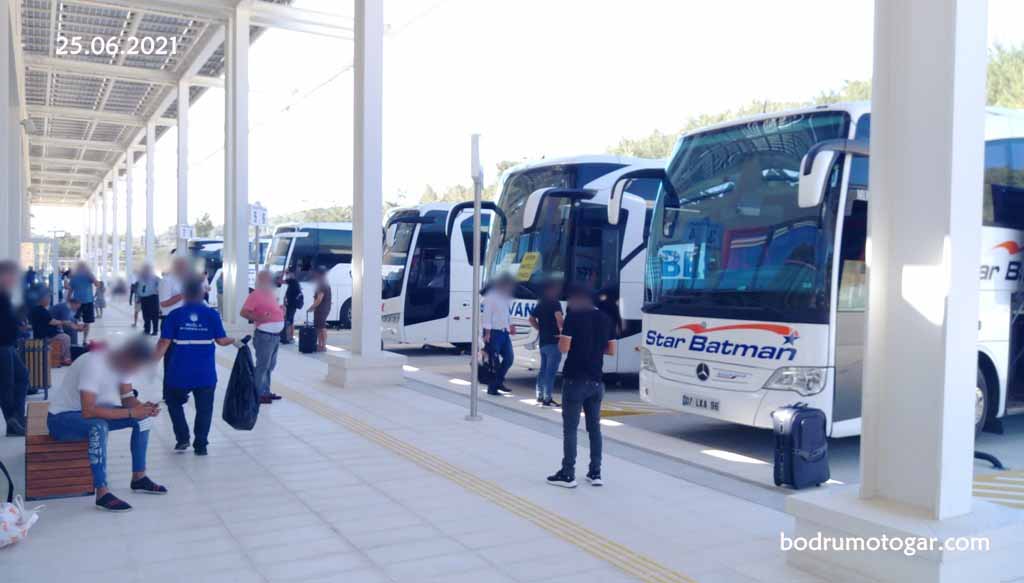 When do I have to be at the bus stop?
Most long-distance bus providers advise you to be at the bus stop about 20 minutes before departure. Large bus terminals can sometimes be confusing, which is why it is advisable to plan a little more time here.
In the waiting area
There is internet in the waiting room where you can check your emails or use other internet services. A variety of other offers are available to you for your stay in the waiting hall and in the outdoor area.
Accessibility
At the Bodrum bus station there are also services for customers who feel unsafe due to mobility restrictions or who need support. If you use a wheelchair, rollator or walking aid, are partially sighted, blind or deaf, we offer information and services that enable barrier-free travel.
Bus companies
The photo below is for informational purposes and shows the offices of the bus companies that sell tickets on the upper floor.
For arriving and departing passengers, boarding and greeting platforms and waiting-seating area are on this floor.

There are "12 ticket counters" in the bus station for long-distance trips.
You have the option of purchasing remote bus tickets from various providers at the respective ticket counters.
Telephone numbers are given on our contact page for the relevant companies described on the dashboard.
Baggage Regulations
According to the road traffic regulations, the luggage limit per seat is limited to 30 kg. There is a surcharge for your luggage over 30 kg. The standard baggage category does not include quilts, livestock, electronic goods, etc. Also, food spills such as oil and pickles cannot be carried in the trunk.
Baggage that exceeds the limit can be taken according to the baggage capacity, taking into account the baggage of other passengers.