Airport Bus
Airport buses also leave where public transport leaves.
Platforms : 19-20-21-22-23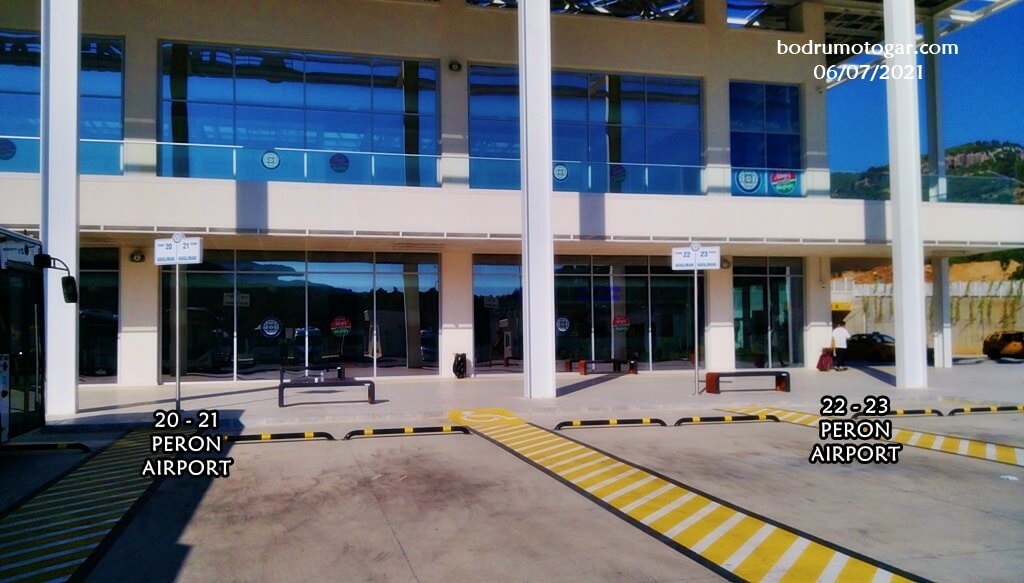 Distance : 31 KM - 19,3 Miles
Travel time
It takes about 30 minutes by bus and can vary depending on the traffic.
For your attention !
There are only 2 bus companies, Havaş und Muttaş, driving to the international airport .
Price : Bodrum - Milas/Bodrum Airport
60,00 ₺
Güvercinlik - Milas/Bodrum Airport 45,00 ₺
Last Update : 07.07.2022
Only in Turkish Lira and only in cash!
Payment can only be made in cash on the bus . There is no payment by other methods such as credit cards or foreign currency.
It is therefore not possible to buy tickets in advance or reserve a seat on the bus in advance.
These airport buses are intended for domestic flights. You only drive to the international flights terminal if you have notified the drivers beforehand.
SO TELL BEFORE!
Bus route
1. Departure from the old bus station in Bodrum center,
2. Stopover in the new Bodrum bus station,
3. They pick up passengers in front of Migros Jet in the center of Güvercinlik,
4. Milas-Bodrum Airport.
"Bus departure times" will be adjusted according to the flight times.
- For domestic flights
For domestic flights, you have to take the buses from the bus station that leave at least 1 hour 45 minutes before your flight time.
- For international flights
For international flights, you have to take the buses from the bus station that leave at least 2 hours 45 minutes before your flight time.
The departures are also adjusted accordingly in the event of flight cancellations and flight time changes.
If the vehicles are full, additional vehicles are assigned.
More information about departure times at these telephone numbers. (only Turkish)
Muttaş Airport buses Bodrum : 0.542.6834800
Havaş Airport buses - TR : 0.850.2220487
---
From the airport ➔ to Bodrum & bus station
For all flights that land in Milas Bodrum Airport, buses are available that go to Bodrum & Bus Terminal.
2 companies and names : MUTTAŞ bus and HAVAŞ bus.
Railroad, subway, city buses, dolmush (minibuses) or long-distance buses are not available here. They arrange your own private transfer or the other option to get to Bodrum is taxi only.
For a private and comfortable airport transfer we recommend Bodex Travel Agency.
Phone : ☎ 0.252.3136550
Taxis at the airport
For domestic and international flights, taxis are available around the clock, 7/24.
To reach taxis at the airport you can call this phone number ☎ 0.252.5230024
---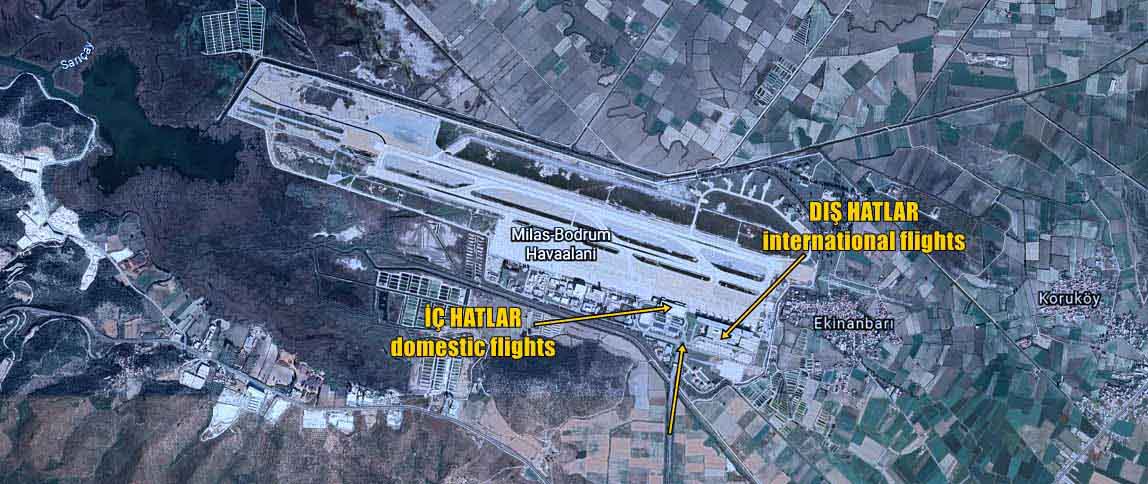 From the airport to Bodrum - Google map
Information about Milas Bodrum Airport and photos
Since Bodrum and the surrounding area are a popular destination for tourists, Milas Bodrum Airport is mainly used as an air hub by charter and low-cost airlines. However, domestic flights also start from the airport, which has the IATA code "BJV" and is 35 kilometers from the Turkish city of Bodrum, for example to Istanbul or the capital Ankara. The airport opened in 1997 opened after a short construction period. Before the opening there were years of discussions about the location of the airport. The original plan was to build the airport close to the water. However, this was successfully prevented by conservationists and a number of population organizations. Great importance was attached to the existence of an airport in this region, as tourism was just developing and its success depended on an airport that was built nearby. After the opening, only one terminal was initially used for domestic flights. Only one year later, in 1998 , was another terminal made available for international flights. On May 16, 2012 , today's airport terminal was specially built on the side for international flights.
At Bodrum Airport
- Parking facilities : There are parking spaces available for both short-term and long-term parking. The fees to be paid are calculated according to the length of the parking time.
- Rental cars : The rental car companies at Milas Bodrum Airport - including the internationally operating companies Avis, Hertz and Europcar - offer passengers from small and medium-sized cars to limousines all common types of car.
- By car : It is easy to travel to the airport by car, as it is easily accessible via the D330 expressway. The corresponding exit is signposted from the expressway.
- Taxi : The taxi ranks are located near the terminal building.